On October 13, the first REAL Science and Technology Conference hosted by Jiemian News was held in Beijing. The theme of the conference was "Welcome to the Reality——Look To The Future Through Evolution", covering cutting-edge technology topics such as meta-universe, artificial intelligence, autonomous driving, quantum computing, future cities, etc.. This conference announced the 2021 "REAL 100 Innovators" list covering five major tracks, and UPhoton Technology was selected as one of the 20 hard&core technology companies in the new technology track list.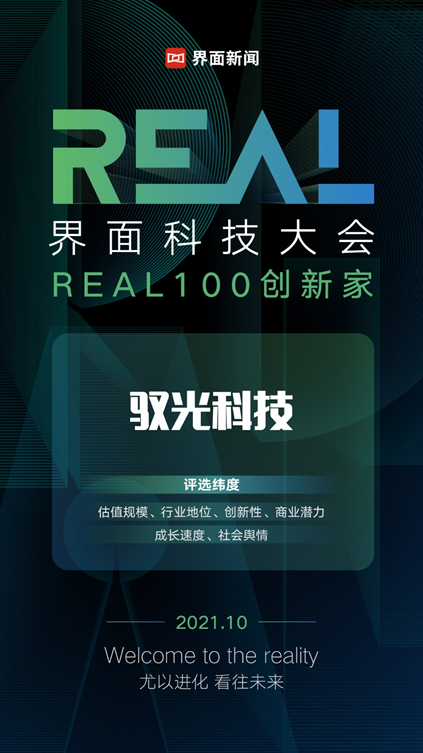 Jiemian News keeps focusing on business and company reports including innovation and entrepreneurship. In 2020, Jiemian News launched the "Entrepreneur Support Program". In 2021, Jiemian News has upgraded the "Entrepreneur Support Program" to "REAL100 Innovators" and continue paying attention to innovation, supporting innovation, and thinking deeply of innovation. Within four months, Jiemian News has teamed up with more than 50 top investment institutions, evaluated through the dimensions of valuation scale, industry status, innovation capability, business potential, growth rate, and social evaluation (public opinion). After a comprehensive inspection, 100 outstanding startup companies covering five major tracks including new technology, new consumption, new energy, new enterprise services, and new health were finally selected from hundreds of shortlisted companies.
UPhoton Technology was founded by Ph.D. Tian Kehan, who graduated from MIT. The corporation is an internationally competitive micro-nano optics expert and a 3D sensing overall solution provider. The core technique, micro-nano optical devices (optical chips) , can be applied in mobile phones, smart homes, financial payments, security monitoring, vehicles, robots, AR, etc. downstream market. UPhoton can also provide overall solutions for three-dimensional sensing.
As a hard & core technology start-up enterprise with the comprehensive capabilities in all aspects of optical chip design, precision processing and inspection of semiconductor, and integration capabilities of optical, mechanical and electrical integration systems, UPhoton Technology keeps empowering downstream market development through continuous innovation.
UPhoton's micro-nano optical device products have entered the supply chain of top domestic mobile phone manufacturers in 2018 and filled the domestic vacancy. After continuous development, UPhoton's products have now fully covered various mainstream 3D sensing technology routes such as structured light, iTOF, dTOF and so on. UPhoton has launched two sets of 3D face solutions for financial payment scenarios, with both "higher cost performance" and "higher performance", and have passed the test of the National Bank Card Inspection Center within 2020. The company has in-depth exploration and extensive deployment in the field of smart door locks and security access control. In 2021, UPhoton has successfully steped into the field of domestic top door locks and access control by providing products to corporations accordingly. It is expected that in the near future, cutting-edge fields such as intelligent driving, service robots, AR, and mobile phone screens will also share the development brought by UPhoton Technology.